Some women want a product that says natural, fresh and elegant and doesn't appear overly obvious. Other women prefer to be noticed on entrance and would like to look glam and wow.
The product we will look at today falls into the former category. It is understated and can and does suit women of all ages. I shall be reviewing Charlotte Tilbury's Bronzer, from the older women perspective and I thought it would be interesting to compare the Filmstar Bronzer to my current favourites which are "Lord And Berry Bronzer" & "Senna" Highlighter.
The Charlotte Tilbury brand has been in the Makeup business for many years and as a professional make-up artist understands the many and varied different needs, desires and wishes of women (all ages) . The product we are looking at is new to me and I thought I might do a comparison to my favourites and look at it's performance.
NB There are affiliate links within this blog post. This means I will receive a teeny tiny commission from the advertiser should you purchase the product from the link. I am not sponsored by anyone and this is my honest review.
I filmed a video for YouTube, click on the link to see first hand how the product worked on my 60+ skin and if it competed  to my current favourite "bronzer"
The Filmstar Bronze & Glow is another product from the brand. Its purpose is to give you that nice glow that'll naturally make you wear a confident look. This product retails for about 70 USD or £49 which I have found in Feel Unique.
This product is a more neutral bronzer that you can either use for contouring or highlighting. You can get the neutral glow to your cheeks by combining the two shades of this product.
Its shimmering gold look gives a glimpse into how great it'll look on different skin tones.  The product comes in two different shades which are perfect for all skin tones. The shades are light to medium and medium to dark.
First Look and feel
The palette comes in a burgundy box with a rose gold inscription. Inside is yet another luxury burgundy package which is where you will then find the palette.
The palette is rectangular, has a luxurious "bejewelled" look and is quite weighty, smart enough to be taken out in the evening in your evening clutch. There are two color shades in the palette with the obligatory mirror.
The two shades are the highlight and the sculpt/bronzer shade. They sit beside each other while the mirror is above them to enable you to see what you're doing.
There are two dual colour palettes Fair/Medium and Medium/Dark. The Shade I used was "Fair/Medium"
Looking at the product would make you think it's soft and has a buttery feel, but it isn't. Rather, it is stiff when you touch it, with a dewey glisten look.
I noticed very little  fallout during application, which is unlike most others, and for me is a real plus. The surface feels not unlike a pressed powder rather than an actual bronzer. Yet the application is that of a sculpting bronzer. Another plus
The Two-color Shades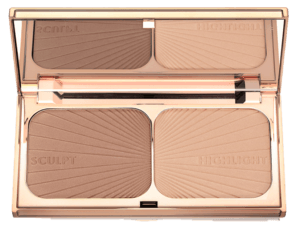 When you look at the highlight shade, it has a mix of gold and champagne appearance. It doesn't have a warm undertone.
It has a golden shimmery look that can flatter any skin tone. It blends into skin tones nicely. The shade looks beautiful and photographs well with artificial lighting making it perfect for selfies or social media
Generally, the product gives a warm feel to the skin when contouring. It gives a warm feel to your skin when you apply it. With this product, your skin gets a nice glowing effect.
Normally, you can smoothly use a big fluffy brush with other bronzers. But, it can get difficult at times when you try to use the sculpt shade with a big fluffy brush, I favour the angled brush as this gives a directional sculpt
How to Get a Candle-lit Skin and Killer Cheekbones
In this section, we'll go over the make-up procedure with this product. Getting a candle lit skin and a killer cheekbone encompasses using both the sculpting and highlight shades on this product.
The procedure is a continuous process, but we'll break it into sections just to show you how to use this product.
How to Apply the Sculpting Shade
First, you'll need a powder and sculpt brush. Start with your left cheek while using your right hand to hold the brush.

Sculpting  Brush

Use the brush to touch the sculpt shade and tap off the excess.
Follow the hollow gently with the brush and draw sculpt along the shadow line of your cheek bone.
You'll notice a soft sheen on the area. Move the brush around the corner of your face.
You'll notice that the sculpt color gives a nice warm tone to your skin. Also, you'll see that the shadow on the opposite cheek has a cooler color.
Using the Bronzing Brush
Next is to get the bronzing brush and dip it into the sculpt shade. Now, apply the brush to the part of your face where the sun reflects naturally
Blend into the cheekbones along the jaw line and across your nose.
Blending in the Highlight Shade
You need a powder and sculpt brush for this as well
Dip the brush into the highlight shade and gently apply it on your cheekbones
Also, move the brush along the bridge of your nose and down to the center. You can also apply the highlighter on the cupid bow of your lips to enhance your lips
Next is to apply a little highlighter in the inner corner of the eyes and across the eyelids. This will make your eyes pop
Get a smaller brush and use it to apply the sculpt shade to the sides and tip of your nose. This will shape your nose nicely.
Pros
It gives a flattering look on most skin types and ages
It gives a unique gleam to your cheekbones
It gives a very subtle look.
Good for photographs/Selfies/Social Media
Great looking product, easily portable
Easy to apply, with little to no fallout
Fabulous for evening or special occasion wear
Cons
Depending on your skin tone, you can only use it during a certain season. This is because some people's faces change during seasons
It has a silver undertone on some skin tones.
Does not come with a brush
Can be easy to overkill the cheeks, therefore practice first, less is more
Not so good in natural light, again less is more
Conclusion
A lot of women may not fancy contouring, but it's a less difficult way to bring out your killer cheekbones. It's always nice when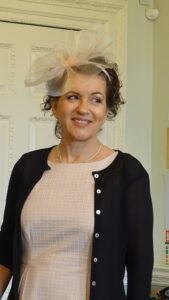 you walk with a confident and glowing look.
In my view this product is one of the best sculpting and highlighting applications you can find on the market. If you want to glow from within in an unannounced way, then you can't go wrong with this product. You only need a little application on your skin to bring out your glow.
You might even get an offer to buy at a lower price from a retailer. My advice is, grab that offer with both hands!
Overall I loved this product and whilst I am still staying with my favourite "Lord & Berry" for daytime use, I will never the less be using Charlotte Tilbury Bronze and Glow for evening wear. Click on the Video to watch the comparison
PS I have just got married and it was my product of choice for my wedding.
If you liked this review then maybe you will find my 6 Best Mascaras for Older Women product review useful,
Thank you for reading thus far, I would love to hear your views on Charlotte Tilbury or if you have any alternative suggestions.
Meantime take care
Cordelia
Founder of Hey Spring Chicken
Please follow and like us: