Innovo Incontinence Shorts: Do They Work?
Everyone knows how debilitating and embarrassing little (or big) leaks are, especially if you are an active person who loves to be out and about exploring. For sports, for work, for social get-togethers, it is very uncomfortable if you are constantly aware of your bladder and the potential for leaks.
This is a problem which many people suffer from in their lives for a whole range of reasons, but it's one that can sap your confidence and your desire to get out and do fun things. For some people, even a sneeze or a cough can spell disaster.
Unfortunately, a lot of incontinence products don't really offer much by way of solution and are far from ideal. Pads can slip and are often uncomfortable or noisy, and pants are even worse. If you use disposables, there is also the environmental factor and the ongoing cost to consider.
Innovo Shorts seek to bring an entirely new solution to these problems. Instead of just handling the outcome, they aim to help with the root of the issue, giving you your confidence and control back.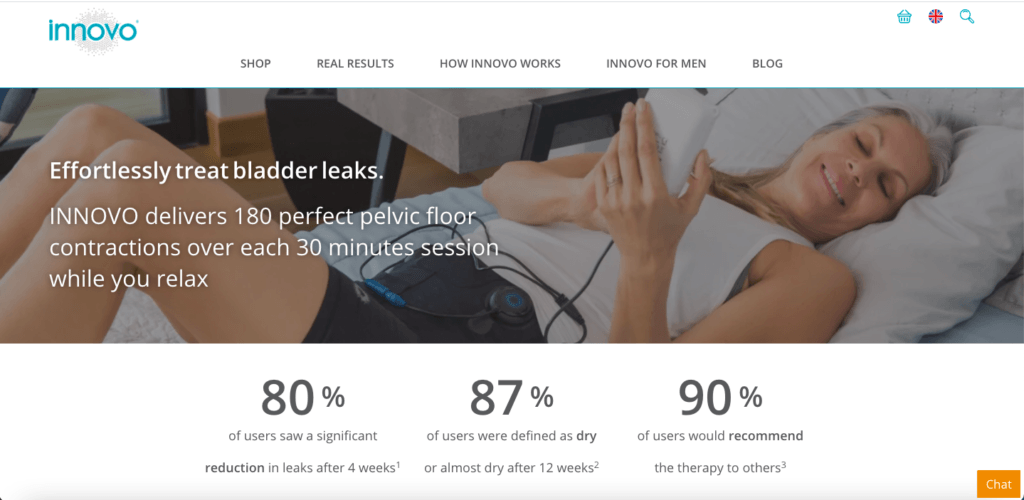 Disclaimers:
Medical, please note I am not medically trained and if you think you are suffering with incontinence then please take medical advice. 
I am not sponsored by Innovo and this review is based solely on my research. I do not receive any financial gain
How Do They Work?
Innovo Shorts work on strengthening your pelvic muscles, giving you increased control. We all know pelvic exercises can help with incontinence, but they aren't easy to do on a regular basis unless you are very dedicated – life is busy and it's hard to keep up with all the "I should do x".
Innovo shorts take the hard work away and do it for you. They deliver 180 pelvic floor contractions in a 30-minute session, while you can simply relax and get on with life. Read a book, watch TV, and know that you're actually exercising some key muscles.
The contractions delivered by the electrodes in the shorts help your pelvic muscles relearn how to control your bladder, giving you better control in both the short and long term.
Stronger muscles leave you feeling better, and over a course of 12 weeks, Innovo claims that up to 87% of users were dry or nearly dry. That's a pretty impressive result and helps to justify the high price – because these shorts certainly aren't cheap.
What Do The Reviews Say?
Those claims are great, but what do other people say about Innovo Shorts? Are they really as effective as the manufacturers are suggesting? A quick look at Trustpilot reviews shows users have rated them at an overall 4.2 stars.
Negative Reviews
Let's start with the negative and see what the shorts' worst features are. A few people complain about poor quality, which is a bit of a surprise given the price point. Quite a lot of customers seem to have encountered faulty products and issues with products half-functioning, causing inconsistent treatment and inconvenience.
A few people complained that after use, the shorts stretched, which again hints at poor build quality, surprising given the price point of these shorts.
However, the company has responded to these reviews with offers to help their customers resolve the issues, and many of the negative reviews do praise the company for good customer service in spite of their poor experience with the product.
Some of the reviews also discuss issues with the fit. It seems the shorts are often too large around the thighs, despite offering a comprehensive sizing chart. This can cause the electrodes not to fit against the skin properly, which will stop the product from working.
More worryingly, some customers report receiving painful shocks or getting red marks from using the shorts. To be clear, nobody seems to have been injured, but there are evidently some issues with discomfort that need to be explored in order for Innovo Shorts to meet everyone's expectations. This is again somewhat surprising given the high price point.
For anyone who is nervous about electricity, this is a major turn-off, and it doesn't inspire massive confidence in the product. However, because the company seem to be proactive about ensuring customer satisfaction, at least product issues will be looked into and solved.
Finally, and perhaps unsurprisingly, some people find the product simply does not help with their problem. The company do make it clear that they recommend people complete the full 3-month treatment before deciding whether the shorts are helping, but it's understandable that some customers get discouraged early on.
There are even some reviewers who have completed the course and still not seen the improvements they hoped for. One reviewer said that their problem seemed worse, though this was hopefully an unfortunate coincidence rather than a result of using the shorts.
If you're on the fence about whether the shorts will help you, these reviews may put you off, but let's move on to see the good things which people have said about them.

Positive Reviews
There are many more positive reviews than negative, and on the whole, most people seem pleased with their purchase. Again, excellent customer service gets repeated mentions, and some reviewers seem to have seen results very quickly.
There are remarks that the sensation is more intense than you might expect, but this is a good reassurance the product is doing its job and working well. Many reviewers are thrilled with the outcome, explaining what a difference the shorts are managing to make to their lives in a short period of time.
A few reviews mention that if you need to return the product, you are expected to pay for the return postage, which is a bit of a sticking point for some. Some others mention with frustration the cost of accessories, such as the pads and the spray, which do bring the overall price of the Innovo shorts up considerably, especially if you use the spray up fast.
Overall, however, these reviews still praised the product for its effectiveness.
Are There Any Celebrity Endorsements?
On the Innovo website, you can find a positive review by actress and TV personality Nadia Sawalha. She says enjoys the need to sit or lie still for half an hour to use the shorts, explaining that this gives her an opportunity to relax for a while. It's great to have a reason to not move for a bit!
There don't seem to be other celebrity endorsements of Innovo Shorts, but it must be remembered that these are a product that is often considered quite personal and private.
It's possible that other celebrities are not comfortable revealing their support for the product to the internet. We congratulate Sawalha for normalizing and opening up a discussion about this extremely common issue.
Do We Recommend Them?
It's always difficult to decide when purchasing something quite expensive; these are not throwaway pieces of kit, and you might feel that you want to try other, cheaper solutions before you take the plunge.
However, incontinence can be extremely embarrassing and shred your confidence, especially if you have had embarrassing incidents in the past. If you feel it's having a negative impact on your ability to get out and enjoy your life, these are definitely worth a try.
It's clear from the reviews that many people have had success using the Innovo Shorts, and that the company will do their best to ensure their customers are satisfied and get the results they want.
That's very reassuring, and overall, we'd recommend anyone who is suffering from long-term incontinence issues tries out Innovo Shorts. It seems like most people get the results they want, provided they don't encounter quality issues which prevent them from completing the course of treatment.
I am thinking that I will purchase a pair of these and try them out for myself and post the results. But before I do this and should you wish to purchase prior to my research then you may well be asking….
Where can you purchase and how much are they?
Innovo Shorts can be purchased direct from Innovo's own website, Click Here MyInnovo.Com
They offer differing types and the cost will vary from £165 – £299 (in the UK)
If you have read this far, thank you.
I welcome your comments on the above product, let the other readers know how or what you have done (if anything) to deal with bladder issues.
Don't be afraid to talk to your Doctor or physician if you have any concerns surrounding urinary and or bowel issues.
See you Soon
Cordelia
Founder of Hey Spring Chicken
If you liked this article you may well like to read  Body Changes for Wome over 50 or Life After Menopause
References
https://www.myinnovo.com/uk/how-innovo-works/
https://uk.trustpilot.com/review/myinnovo.com?stars=5
https://www.myinnovo.com/uk/how-innovo-works/
https://www.myinnovo.com/uk/
Please follow and like us: