What are the Best Bikes for Women – Getting  Back In The Saddle
You may not have ridden a bike since in your youth, you may be a little nervous about what is suitable or even if you can balance and ride. I have written a post and on this resource page will be the links to purchase
Disclaimer: The click links will take you to another, if you purchase any goods from one of these links I will earn a small commission (at no extra cost to you the purchaser). The links are called "Affiliate Links" 
Click on this link to see the post in full – Best Bikes for Seniors – Women
* What is the Easisest Bike to Ride – Viking Belgravia
* Best Bikes for 60 year plus women – Retrospec Venus Dutch Step Through Hybrid
* What is the Most Comfortable Bike for Seniors – Raleigh Ventura Thru Comfort
1/ Easiest Bike To Ride –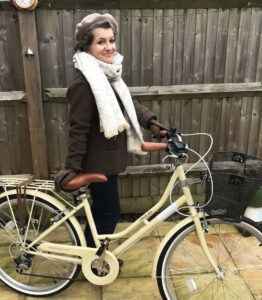 Viking Belgravia. – No accident that it happens to be my bike of choice and the one I purchased a year ago. I have absolutely zero complaints about this bike and love getting out and about on my bike.
The design: looks like the classic Dutch Bike and is very "Jessica Fletcher – Murder she Wrote" comes in different frame sizes. I am only 5 feet tall (or 1.52 meters) and find many bikes are just too large. Not so the Viking Belgravia bike. The saddle and the Handle bar/ quill stem frame, can be adjusted; called "high rise comfort chrome handlebars"
Sizes: 16″ or 18″ 40.6 or 45cm
Wheel Size: 26″ 66cm
Colour: Latte, Red, Pink, Blue, Mint, Brown
Gear System: Shimano Six speed indexed gears with thumb shifter (micro shift)
Brakes: Front and Rear alloy V type brakes with easy reach alloy levers. (reach adjust feature)
Weight: 17.4kg 38 lb
Included in the Price: Full length mudguards, chainguard, Viking Comfort Saddle, rear pannier rack, front Basket, alloy prop/kickstand, vintage shopping basket
Why I like it: It is light and easy for me to manoeuvre, easy to ride on both flat roads and up a slight incline, looks really cool. Turns easily and in small circle, has a retro appearance which I just love. It is exceptional value and you get a lot for your money. Getting out and on my bike is never a chore.
PROS
Durable Frame – (High Tensile Steel Frame) Easy to retain balance
Great for both town and country cycling
Exceptional Value,
Range of sizes – which mean this offers a size for petite women
Great range of colours
Easy to change speed
Good breaks
Easy to assemble 90% assembled on delivery
Easy to handle
Freewheel Mechanism (means you can coast)
CONS.
Not designed for off-roading,
Is heavier than its competitors but the weight is a pro as well as a con
The shopping basket was very cheap looking, I replaced mine with a more sturdy version
Amazon Link >>>>>>Click Here To Purchase<<<<<<<<<<  
2/ Best Bike for 60 Year plus – Women
Retrospec Venus Dutch Step Through Hybrid.- Despite the wordy name of this bike, this is a great and easy to manage Bike, if you are new to getting back in the saddle this bike will ease the journey. Why is it called a Hybrid? The answer is because it is designed for town and country cycling, meaning it is a general purpose bike.
Design: Vintage, Like the Belgravia it has a retro Dutch design this ensure ease of riding and ensures comfort for long periods.
Size: 17.3 inches – 44 cm Medium to Large Frame
Wheel Size: 29 inches – 74cm
Colour: Cream
Gear System: One speed option or Seven Speeds
Brakes: Front and Rear Caliper
Weight: 12.7kg 28lb
Included in the Price: Chainguard, prop/kickstand, bell, headlight, rear pannier, tools for assembling the bike
Why I like it: & why I feel its ideal for 60 year plus woman. Like the Belgravia design, it is perfect for someone in their "Golden Years" as the riding position is simply sit up and ride, no bending over or hunching over the handlebars. It offers a lot for your money and does'doesn't wobble when riding slowly.
PROS
Affordable without frills
Very light,
Easy to assemble (comes 85% built)
Easy to handle
Good balance, easy to remain upright
Absorbs shocks which ensures you can cycle for longer periods
Easy to get on and off.
Cycle in the Town or In the Country
Freewheel Mechanism (means you can coast)
CONS
Not suitable for women under 5ft 4 inches as the frame and bike size are med/large
I found the saddle/seat a little uncomfortable, may wish to change the seat.
The front Light and bell are not great quality.
>>>>Click the link <<<<< to take you to The Austin Bike Farm which at the time of posting this article they have in stock  (no affiliate links)
3/ The Most Comfortable Bike for Seniors
Raleigh Ventura Comfort Bike – One of the most comfortable bikes on the market today. It is a no frills town bike. Visit the shops, or pop to a friend then this is the bike for you. This is a bike where all you want to do is cruise around and do nothing more strenuous than a gentle ride. It is built with comfort in mind and is by far and away the best.
Design: Unisex
Size: 15″or 19″ Inches 38cm or 48.26cm
Wheel Size: 27.5 Inches 69.85cm
Colour: Silver
Gear System: Shimano Gear change, 21 gears to choose from
Brakes: Linear Pull system
Weight: 18.5kg 40.8lb
Included in the Price: Partially assembled, comfort grips and comfort saddle/seat
Why I like it & feel it qualifies as the best and most comfortable bike for the over 60 market. Because quite straightforwardly this is the most comfortable bike for anyone regardless of age. It is built with comfort in mind, this bike is a unisex bike and can therefore be ridden by both sexes. It is a no frills easy on the eye bike and one you will not be embarrassed to be seen on.
PROS
Affordable
Comes in a range of sizes, even a size for the petite woman (like myself)
Padded and comfortable Saddle/Seat
Lightweight
Stable (no wobble at slow speeds)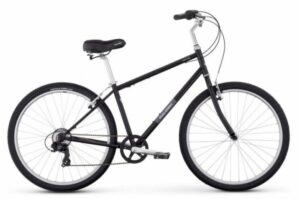 Built to last
Easy to change gears
Comfortable ride, can cycle for ages with minimal discomfort.
CONS
Not good for fast or fast to medium paced cycling.
Hills are not fun
Basic Bike but good quality
Heavy to Manoeuvre
Dismantling/getting off the bike, requires a little more thought than the Dutch design, as this is a unisex rather than a step through, once mastered it's easy.
>>>>Click the Link To Purchase<<<<   This is a direct link without any affiliate commission, at the time of posting was in stock
So there you have it, the trimmed down choice of bikes suitable for women who are over 50 and 60 and may not have ventured on a pushbike for some some considerable time
"Best Exercise Equipment for you whilst at home"
Speak soon
CordeliaN
Founder Hey Spring Chicken