Let me show you some great ways to protect your hair from sun damage, especially older hair  which tends to be more vulnerable to drying out. Here are some great home-made remedies  as well as store-bought options to get your hair looking young and vibrant this summer.
Most of us, (more mature women) will already know that as we age our hair tends to dry out and start looking  wiry. The sun can make this a whole lot worse so how can we protect our maturing manes from the  harsh rays of the sun? Below are some fabulous ways of keeping the shine and condition of your hair  in great shape whilst in the sun. Some of them you can even rustle up from common pantry items, or  you can opt for a ready-made product. Whichever you choose, you can rock your locks like you did  back in the day!
How to Protect Your Hair from Sun Damage 
The sun produces some really harsh UV rays which can have a detrimental effect on your hair, just as  they can on your skin. Most of us spend money and time looking after our skin to make sure it  doesn't age in the sun, but what about our hair? It's not something we always think about despite  experiencing how much it dries out in the sun. So other than just donning a sun hat what else can we  wear? How to protect your hair from sun damage – mature women? Well, there are a number of  options we can use to provide a protective barrier from these harmful, drying UV rays.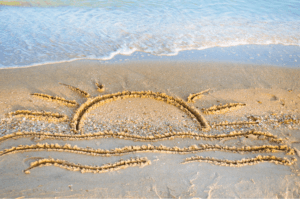 The most important thing is to be prepared and protect your hair BEFORE going into the sun. As  much as there are remedies for sun-dried hair (discussed below), prevention is always better than  cure. So let's take a look at products you can put in your hair that will provide this protection:
From the Store 
My absolute favourite product to wear in the sun has to be the Coola Scalp – Hair Mist Organic  Sunscreen SPF30. It has a wonderfully fresh and natural smell of sage and sea air. It's a great non greasy formula that is water-resistant for up to 80 minutes! It doesn't make my hair feel heavy or  greasy and is great as an everyday product whether on holiday or not! I tend to use it on my hair  when it's still wet after washing as my hair is curly and tends to look better when I leave it to dry  naturally. But it can be used on dry hair also without leaving any residue. It boasts a whole host of  environmentally-friendly claims including being vegan, and reef friendly!
In addition – If you have read my previous article "How To Tame Curly Hair"  you will know how I am a fan of  Philip Kingsley and when I swim I will use Swim Cap by Philip Kingsley, it is a mask which is waterproof and can be applied before swimming, a fabulous product and one which is always with me when on holiday
From the Pantry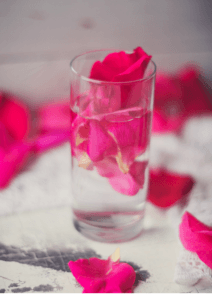 -I also love to dabble with homemade hair and beauty recipes so I will share my wonderful DIY  version of hair protection with you. It requires just 2 ingredients found in your grocery store – grape-seed oil and rose water. It is so simple to make, just mix ½ teaspoon grape-seed oil with 4  tablespoons of rose water in a small spray bottle and shake, shake until the ingredients are  mixed, and spray straight away onto wet or dry hair. The ingredients will separate again quite quickly  so be sure to shake the bottle well before the next use. Comb the hair thoroughly and leave it to dry  naturally.
What to do with Sun-Damaged Hair? 
If you forgot to prepare in advance and your hair resembles a wire-wool scourer, don't despair – all is  not lost. There are some ways to restore the life back to your hair after it's sizzled in the sun. Before  I learned what I know now, there were many times when my poor hair was frazzled and totally  untameable due to sun exposure. So there I was sporting an amazing tan with a dried-out mop  resembling tumbleweed! Not the best look I'm sure you'll agree. Well, here are my two favourite ways  of dealing with this issue including a great over-the-counter option, and my life-saver DIY recipe.
From the Store 
I have found two of the absolute best store-bought products for restoring sun-damaged hair to be Aveda  After-Sun Hair
Treatment Masque. It has organic coconut oil, green tea, and vitamin E oil as its main  ingredients, and not only smells wonderful, but it leaves my hair feeling amazingly renewed and soft,  but not lank. I massage it in after shampooing, paying attention to the frizzy ends, then leave it for 5  minutes before rinsing. I can even blow-dry my hair after using this and the result is amazing!
The second is the amazing Elasticizer Mask from Philip Kingsley, its all singing and all dancing. I have found no matter how badly I have treated my hair this product returns my curly (but frizzy)  hair, into lovely supple and softer curls. It is a mask that you can leave on your hair for five minutes or if required considerably longer. I have been known to leave mine on overnight. You simply apply to dampened hair prior to shampooing.  Its as simple as that
More From the Pantry 
My favorite DIY concoction for sun-damaged hair is to mash an avocado to a paste and then  gradually mix in 1 tablespoon olive oil and 3-4 drops lavender oil. Once you have a lovely smooth  paste, warm it in the microwave for just 5 seconds and then work it evenly through the hair. I then  use a shower cap to cover my hair and either take a lovely relax in the bath or give myself a manicure  whilst the mixture works its wonders for 30-60 mins – depending on how much time you have. You  can then rinse it off with warm water. If you don't have a shower cap, you can use a plastic bag to  cover your hair to generate heat, using a laundry peg to twist the bag for a snug fit. The result is  wonderfully glossy, repaired hair.
Protecting Coloured Hair from the Sun
If you have ever coloured your hair you will have realised how much it can dry your hair out – especially if you have lightened it. Therefore it is super-important that you protect it from the sun as  exposure to those UV rays really will leave it looking dried and damaged in no time at all. Any blonde  tones can end up looking either a bleached-out white or turn a nasty canary yellow! Whilst darker  tones will fade and look really dull. So once again here are two fantastic options for you to try.
From the Store 
The best UV protector I have found for coloured hair has to be Fekkai Pr-Soleil Hair Radiance and  Protection Mist. (I found this on YouBuy) You can even grab this  in Walmart and it certainly won't break the bank either. The last one I bought was around $18 so it's cheap enough to use as often as you want. If you are from the UK >> click here on the "Ninth Avenue Link" <<. It has a  wonderfully fresh citrus smell and you can almost feel it working hard to protect your hair's hydration  and colour.
From the Pantry 
OK, so these are not all pantry ingredients BUT you can easily get these online or from a drugstore.  You will need 1 teaspoon raspberry seed oil, 2 tablespoons wheat germ oil, and 2 drops of rosemary  essential oil. Mix all the ingredients together well and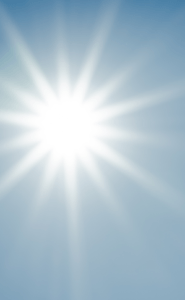 then massage sparingly through the hair with your fingertips, paying special attention to the ends. As this is an oil-based mix, you will probably  want to comb short hair into a slicked-back style, or long hair into a braid or bun. Both the raspberry  seed and wheat germ oils in this recipe boast impressive natural SPFs for natural sun protection. Just be sure not to pull colored hair super-tight into up-styles as it is far more susceptible to breaking.
So there you have my best tips for saving your hair this summer and to keep your twilight hair  twinkling like that of a teenager!
I would like to thank you for reading thus far
I would welcome your comments or ideas you may have about "How YOU cope with sun damaged hair and what you do to protect your hair?
See you soon
Cordelia
Founder of Hey Spring Chicken
References:
NB: All links in the post are without affiliate links and are my own recommendations.
Scalp & Hair Mist Organic Sunscreen SPF 30
Badger & Balm
www.philipkingsley.co.uk
Ninth Avenue – Fekkai Pr-Soleil Hair Mist UK
Fekkai Pr Soleil Hair Mist – Youbuy US
Please follow and like us: