As a woman in her early 60s I have never known anything other than curly hair, I actually like my unruly mess of hair, not when frizzy, curly hair can be quite forgiving and doesn't really require the hours of love and attention that fine straight hair demands; however don't be fooled Curly Hair most certainly does require love and care. Many women do not like their curly hair, and struggle to see the benefit.
 HOW TO TAME CURLY HAIR – 4 TIPS
After many years of trial and error, expensive products, hairdressers and treatments, I think I have arrived at a "hair happy" stage in my life and think you might too. It requires first taming them maintaining, this will include obviously moisturising, specialist products and regular treatments with a view to saying goodbye to The Frizz, or at the very least restore it from frizz to curl. 
In addition, you will need to learn to love your curls which will bring you a step closer. 
How to Tame Curly  Hair – What is My Curl Type
Loosely there are four types, this can be seen when the hair is wet. Which type are you?
1/ Straight (not really curly and can easily be straightened)
2/ Wavy, can be fine to coarse, when the curls are thick and coarse it is more susceptible to frizzing
3/ Curly curls, they can range from loose loops to sight springy corkscrews, some sheen to the hair but prone to frizz
4/ Coily curls, often referred to as afro textured or kinky hair. Dry and spongy fine or coarse and often wiry. This type of curl is the most difficult to manage.
My own hair type is curly curls and are loose loop when mid length, with a tendency to frizz for most of the time, especially when  it's damp or drizzly rain.
How to tame your hair can be both easy and difficult, easy with the right products, difficult if left unattended and the resulting frizz is impossible to deconstruct. I would say start with a good haircut with lots of layers. However during Covid & lockdown this maybe a difficult first step.
I would recommend (costs permitting) a good cut every 8 weeks. I have had the same hairdresser for 30 years, I met him when we were both in in our early 30s. During which I had long ringlet type hair (think girl dancer from river dance) and wanted it cut short.  Ever since he took the bold move to take charge of my curls I have learnt to rely on his good advice.  He completely understands my hair and I trust him implicitly.
So now you have had a good cut, next step is to maintain your curly hair.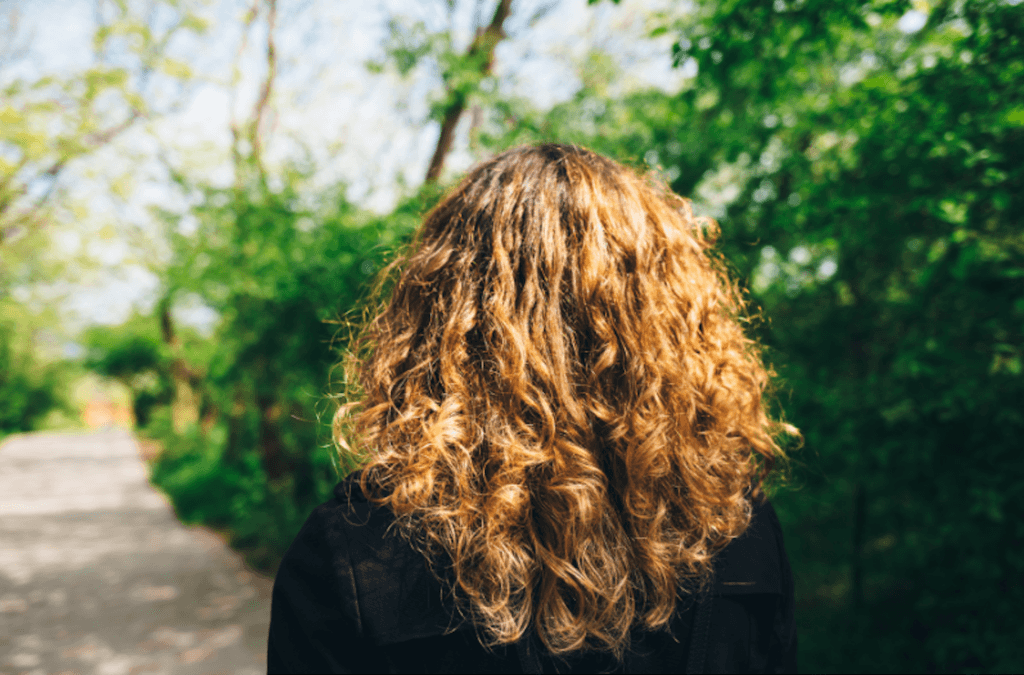 How To Maintain Curly Hair
My advice may seem strange to women with straight or even wavy hair, but my fellow curlies may well be aware of  this little tip; the advice I suggest is "keep your hair brushing to an absolute minimum", I actually never brush my hair, you can comb when wet, but don't brush  (neither wet nor dry) To get the best results from your washing regime you will need to comb through your products, best way of combing through is to  purchase  a good quality wide toothed comb.
Use a shampoo specifically for coarse or curly hair together with a coarse or curly specific conditioner.
Recommend you do not over-wash and only wash your hair every two to three days.
Once you have washed and conditioned your hair you will need to add products to keep the frizz to a minimum.
In addition to shampoo, condition and products post washing, it is wise to periodically give your hair a "leave in" treatment, like a mask or deep condition. I have found nothing to compete with Philip Kingsley "Elasticizer" I find this especially good and beneficial post holiday or when I have been swimming. In any event try this treatment once a month and you will notice huge improvement.
How To Moisturise Curly Hair
Moisturising your hair is key to keeping the frizz to a minimum, as previously mentioned you need to
* (Pamper) Once a month (or more if required) Leave In Mask or deep condition
* (Cleanse) Shampoo hair specifically for coarse or curly hair x 2 washes if not using leave in mask, x 1 if using mask
* (Condition) Condition hair for coarse or curly hair. (comb through at this point)
* (Style) Post Wash products – I will list the most popular and the latest products below and where to purchase
Best Hair Products for Curly Frizzy HairTopic
As mentioned previously, over the years I have tried many and a whole variety. The attached are a list of my hero products and what I cant live without. I have also added additional products which I will use for occasional variety and when I feel my hair needs a bit of a change.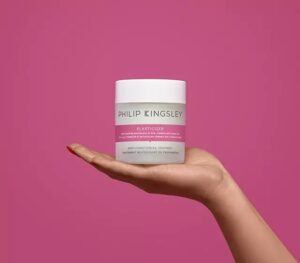 Philip Kingsley Elasticizer
Benefits Strengthens, repairs and hydrates. Adds elasticity and bounce to fine, medium and coarse hair.
Hair Texture Coarse, Fine, Medium, Naturally Coiled Curls
"1 sold every 2 minutes. Multi-award winning moisturising hair mask which deeply nourishes all hair types. Super conditioning pre-shampoo hair mask treatment delivers elasticity, manageability, bounce and shine to all hair textures. Frequent use leaves hair stronger and healthier looking with less breakage."

Why I like this:  This is like a super mask for the hair, if my hair has been exposed to extreme weather, (especially the sun or swimming) then give your hair this treatment, it is easy to apply (just damp the hair) and boom you need only add a small handful, depending on how dry my hair is I may leave on for twenty to thirty minutes prior to shampooing, this will bring your hair into a new level of softness and curl. Not a frizz in sight, in addition it makes styling so much easier as my hair is so supple. Your hair will love you for this treatment.
Next

Philip Kingsley Re-Moisturising Shampoo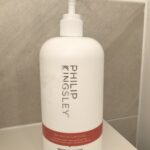 "Hydrating shampoo is the best shampoo for curly, frizzy and wavy hair types. It's highly effective formula targets even the driest and coarse hair, working to moisturise, strengthen and smoothen hair. It's ingredients include: Hydrolyzed Elastin to add strength, body and reduce breakage and Cocamidopropyl for gentle yet thorough cleansing.
Combine with our Re-Moisturising Conditioner to give your wavy, curly & frizzy hair the full moisture boost it needs and leave hair feeling hydrated, soft & shiny".
Hydrating shampoo for curly, frizzy and wavy hair types
Delivers moisture to transform dry and frizzy hair, leaving it soft, smooth and shiny
Improves hair's strength and elasticity
Optimises moisture retention to reduce breakage
Ideal for coarse hair textures
Why I like this: I find my hair is softer and less likely to frizz, I also find it lasts two to three days in between washes, I find my hair looks like its been washed and primped in a hair salon. Its a great product.Tip purchase the 500ml bottle it is exceptional value and lasts me over 8 months,
Followed by It's Partner

Philip Kingsley Re Moisturising Conditioner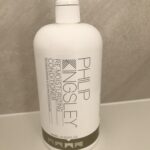 "Vegan-friendly, hydrating conditioner is the best conditioner for curly & wavy hair types. It's unique blend of ingredients contains: Hydrolysed Oat Protein to soften your hair's texture, aid moisture retention and hydrate your hair as well as a unique blend of waxes to smooth and moisturise your cuticles, helping achieve a reflective shine.
Combine with our Re-Moisturising Shampoo to give your wavy, curly & frizzy hair the full moisture boost it needs and leave hair feeling hydrated, soft & shiny".
Tame, moisturise and hydrate even the driest hair types
Delivers a moisture boost to leave coarse, frizzy hair smooth and shiny
Optimises moisture retention, so hair stays nourished and glossy throughout the day
Ideal for coarse hair textures that crave hydration
Why I like this: I can still recall the first time I tried this  shampoo conditioner, never before or since has a conditioner made such a difference to my hair. My hair is prone to dryness and if I dont use the combination of shampoo and conditioner I will find it necessary to wash more frequently thus the hair just gets dryer and dryer, this conditioner stops that cycle and my hair looks shiny and soft. Have I said how much I love this product..
Newish arrival to my bathroom is the Only Curls products as the name suggests they only sell products for curly hair. This will tell you they have a good insight into curls. I found Only Curls a year ago having lbeen searching for a replacement for Tara Smith products and Only Curls are offer everything your curly hair can need. Its a real wowser. The website is clean and easy to navigate, each and every time I log into the site I find they have updated with fresh news and tips. A real gem
After I wash out the conditioner I follow up with two Only Curl products
Only Curls Hydrating Creme
A conditioning, leave-in, styling creme for curly hair • 250 ml / 8.45  fl oz
Why your curls will love it:
  It's nourishing and hydrating.
– Specially formulated to hydrate, without weighing curls down.
– Smoothes curls and minimises frizz.
– A special blend of Shea Butter, Marula Oil and Aloe, naturally replenishes moisture and helps restore curls.
– Perfect for all curl types.
– Fresh citrus and coconut fragrance – it smells delicious!

Why I like this:Adds weight to my curls and makes the curls have depth and a look solid without being clumpy or sticky, I leave to dry naturally and this feels and smells beautiful hem feel full of moisture and
Next
Only Curls styling cream
Why your curls will love it:
– Holds curls in shape.
– Specially formulated to define and hold curls, without stickiness or crunch.
– A special blend of Avocado Oil, Kukui Oil and Aloe, naturally hydrates curls.
– Locks in moisture and minimises frizz.
– Perfect for all curl types.
– Fresh citrus and coconut fragrance – it smells delicious!

Why I like this: As the name suggests it's an enhancing curl cream, minus the crunch or rock hard feel. This final product adds the final guest to the party and finally your frizz is a glorious head of curls


Tara Smith Rock Hard Gel (this is now only available in US)
Tara's "Rock Hard Gel" is my absolute favourite product and could only be found in M&S. It gives your curls real body and rigidity without being sticky, it also looks impressive and removes every last bit of frizz.
Tara Smith no longer supplies to M&S or anywhere else in the UK and can only be found in the US, however I recently found some stray bottles on eBay and purchased the lot. Worth a bit of internet searching for this blinder of a product. I managed to find a couple of bottles on E-Bay
In Between Washing
Every morning I will dampen my hair, scrunch with my hands and if necessary I will add a small blob of my styling/hydrating cream. This will usually add a bit more weight to your hair and tame the few stragglers or frizz. Another product I like is Philip Kingsley Curl Activator, slightly more body than "Only Curls" the curl activator I will use if I am going out and don't have time to wash my hair.
 Conclusion: If like me you suffer with curly frizz then hopefully this post will give you the answer, No longer do you need to worry about frizz or even how your hair will behave on waking. I will add the links to all of the websites, just to add I am not sponsored by any of the products these are my genuine favourites, hopefully they will soon be yours too.
Please comment below how you look after your curly head of hair
Thank you for reading thus far.
See you soon
Cordelia
Founder of Hey Spring Chicken
Philip Kingsley Re Moisture Shampoo
Philip Kingsley Re Moisture Conditioner  
Philip Kingsley Curl Activator & enhancer 
If you like this post you may like this one also "Living Your Best Life"
Please follow and like us: