As you age, especially post menopause, your hair can start to thin, turn to gray and look dry and frizzy. There are some things you can do to stop the aging process together with tricks to make your hair appear younger.
Scalp Treatment
Good shorter cut
Salon Hair Treatment
Regular Monthly Hair Mask
Washing with good quality shampoo and conditioner
Don't over-wash, over-brush or over-heat
Protect against the sun (and chlorine)
Spray on Spritz and boost the shine
Instant root cover for in-between salon visits
Styling Products
NB. Disclaimer. All the products mentioned are my own favourites and what I tend to use. I am not sponsored or linked in any way to the product and are my genuine recommendations
Scalp Treatment
Often as we age we find the scalp can become stressed, dry and or flaky and prone to dandruff or flaky skin, the result from stressed hair is the new growth lacks energy luster and can look dull and appear thin and flyaway or frizzy.
By stimulating the scalp when we shampoo (a good massage and rub) will certainly have a beneficial effect, however add a scalp treatment into the mix and you will notice the benefit very quickly, it will re-invigorate your hair. Personally I like scalp treatments that calm the scalp down and include camphor and menthol.
One of my favourite Hair Stylists and manufacturers is Philip Kingsley. For years, I suffered with itchy flaky scalp but by continuing to use Philip Kingsley products my scalp is happy, I can personally recommend their treatments. (NB I am not paid or sponsored these are my genuine recommendations)
Click the link for information regarding Scalp Treatments
Good Haircut
As I write this post I find I am now week 12 into Covid Lockdown, we won't always be in this situation so assuming you are able to visit your hairdresser or stylist then I would suggest you do this as soon as possible.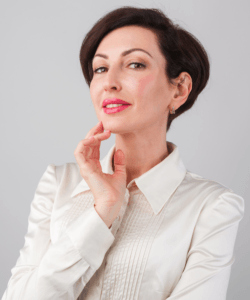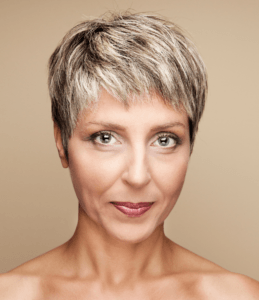 As we age our hair becomes thinner and can look like the proverbial witches tresses when washed and wet. It is not a good look and is aging. There are many flattering short cuts for women over 50 or 60 and can almost immediately turn back the clock by 10 years. That is the power of a good haircut.
Longer layers, highlights and an appreciation of your face type will also add the frame for your face rather than take over and look a big old mess. It can be difficult to take off your hair especially if you have had the same length for many years.
If you are still apprehensive  cutting your hair, start with a long layered shoulder-length cut, other styles include a "Pixie Cut, or the good traditional "Bob" Adding colour and highlights are an expensive but worthwhile addition and add depth to your style.
Salon Hair Treatment
On arrival to your Hair Salon and during the consultation ask what treatments they could suggest or offer for your hair type, they will usually offer a much wider range than we have access to and will allow you to first try before you buy.
Regular Hair Mask
If you have read my previous post, which includes "tips to taming curly hair"you will know how much I am a fan of Philip Kingsley Elasticizer pre shampoo mask. No matter your hair condition this beauty will raise your hair condition up a notch or two. By getting into the habit of pampering your hair with a mask at least once a month will very quickly show the benefits.
Good quality shampoo & Always Condition Hair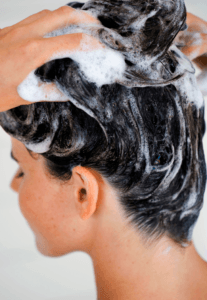 Your hair stylist will suggest their own shampoo and conditioner which may be perfect and affordable but its worthwhile looking at what else is available, in addition read the reviews. Your needs change as you age and what was a favourite when in your 30s may not fulfill all of your requirements now.
You will need to look at a product that is a/ suitable for your hair type and b/ added ingredients for pre or post menopause hair. We are told that as we hit this milestone our hair follicle changes and what was once a head of glorious hair can now seem lack lusture and often prone to frizz
When I was a little girl my mother would brush my hair 100 times per night. It was'nt the right thing to do then (I had curly hair, which turned to frizz when brushed) and it isn't right now as we age. For the same reason over-brushing can cause aging hair to frizz.
Don't Over-brush
Don't Over-wash
Overwashing your hair can again cause the hair to become stressed and prone to frizz. Every three days is more than adequate. If you are adding a mask pre wash then you only need to shampoo once during the wash, followed by a conditioner
Protect Against Sun, Sea & Chlorine
Just like you protect your skin your hair also needs protection.
If you are away on holiday I find a leave in mask throughout the day will give good protection.
I find this product offers the best all round protection for sun protection
and a product called "Swimming Cap" if you are heading into the water, its a waterproof protective mask and is fabulous.
If you have just returned from holiday (even with all of your protection) Give your hair a treat and a really good hair mask. For a one off treat I have found the overnight mask by "Living Proof" is a bit of a game changer. It allowed me 7 days free of hair washing. Huge plus. A truly remarkable mask that seemed to give my dry old hair a big old drink.
"The Science"
"This mask is formulated for ultimate repair: a tucuma butter delivers long-term conditioning, glycolic acid smooths and softens hair and our patented Healthy Hair Molecule (OFPMA) restores damaged cuticles and moisture levels, strengthens hair and protects it from future damage.
The result: your hair will look and feel visibly healthier and 20x stronger."
Spray On The Shine
There is a little trick I now use having seen a fellow blogger offer this as a bit of a cheat. That is something called a Shine Spray.
Quite literally you spray reflective product onto your hair or you could spray onto your palms and then pat gently onto your hair. It is a real game changer and once used (especially if your hair is prone to dryness or flat looking curls) you will never look back.
I personally like the "Aveda Brilliant Spray" you can track this down at Boots Chemist or online
Instant Root Cover
Another life saver in terms of mid permanent colour is this simple little product. I have tried quite a few over the years and many are sticky and messy offering very little by way of improvement.
Until,  that is,  I found Josh Wood's Blending Brush, I first came across this product when I was working in a Beauty Department (over ten years ago), it was brand new to the industry and at the time there was nothing similar. It really impressed the hair and beauty industry.
The product has since evolved but in my view is a real power house and I have found nothing which is as effective. It has a little brush on the end of the wand making it very easy to apply to damp or wet hair and there is zero mess. It comes in four shades Blonde, Light/Mid Brown and Dark Brown. & Black. Lasts up to three washes which is another big tick for this product
I use the Light brown but it appears mid brown on my hair which is perfect.
Click on the link Josh Wood Colour
Style With Hair Products – Post Wash
There are many products which can be used to style your hair once washed; you are looking for products which will add weight without being sticky or crunchy, you may require it to thicken, to activate a curl, or to help keep it straight and free from fly away hair strands.
My go to hair products for Curly hair are Only Curls, as the name suggests they are Curly Hair specialists. I absolutely love these products, they understand curly hair and all the problems which we curly haired mature woman struggle with. I have not found any product which enhances my curls quite like "Only Curls"
For those of you don't have curly or even wavy hair require a different type of support is required, often the hair will be fly-away, tendency to thinning. My preferred products for any hair type other than curly is Philip Kingsley. They have been established for over 50 years and know a thing or two about hair. They are mid range pricing and offer salon quality. The range is huge and the beauticians who sell the product have been trained by Philip Kingsley (the Brand)
Alternatively I would strongly suggest you ask your stylist when next you visit the salon
For those of you who have read thus far a big thank you. If you could also leave a comment below  about the post or indeed regarding your hair tips or suggestions it would be much appreciated.
See you soon and take care
Cordelia
Founder Hey Spring Chicken
Websites Used
Please follow and like us: