Fashion Trends for Women over 60s
Now that you're here, we're assuming you've already read up our article on "Essential pieces of clothing every woman in her 60s needs", because we're going to help you spice up that basic wardrobe with some new pieces and trends. If you haven't, we recommend you go check that one out first. "Essential pieces of clothing every woman needs"
Adding & Building  new outfits From Existing pieces  
None of the fashion trends we will discuss today needs you to switch or overhaul your wardrobe completely; we're just going to build on the basics we already have. These trends will blend in with and add flavour to your existing collection without breaking the bank! 
Luxe loungewear 
Since we're in 2021 and COVID is still here, there's a lot of staying at home we've been doing and probably will be doing for a while. This trend is a little COVID fashion trend, because we want to look good while we are quarantining at home, either just for ourselves or for times when we have to go answer the door.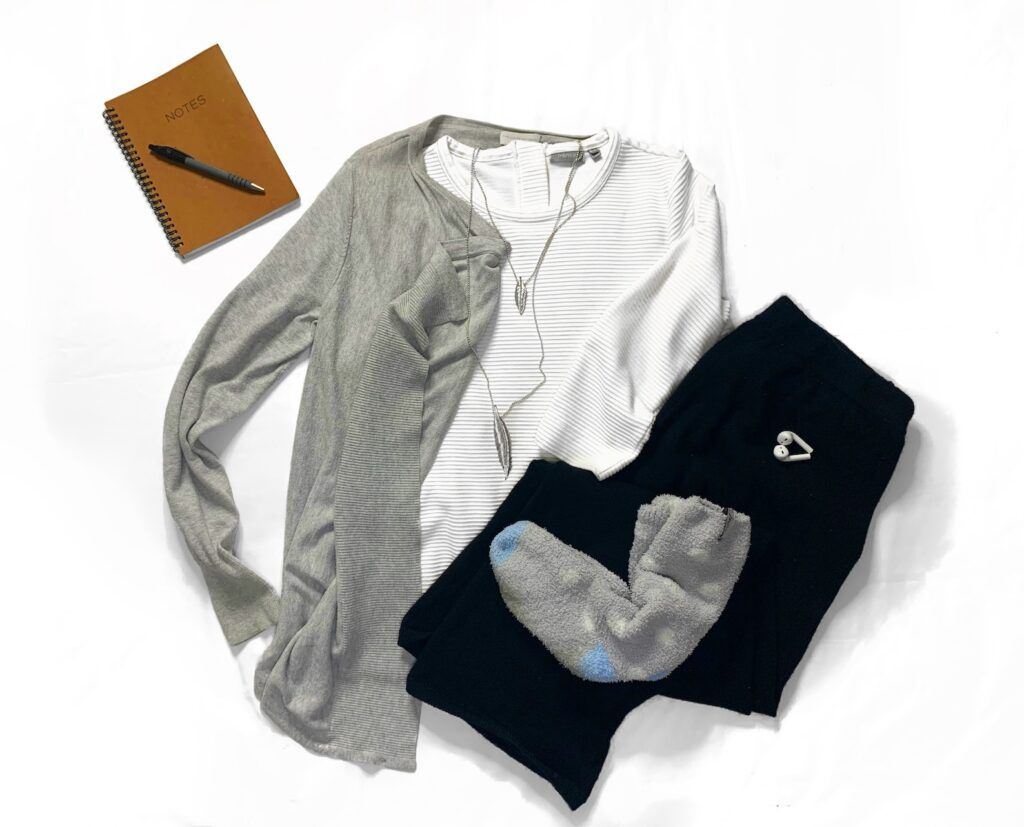 Luxe loungewear is basically super comfortable, stay-at-home clothing – the sort that you'd lounge in your home in, but now you can also look chic and presentable in it, so much so that you wouldn't even mind stepping out and running errands. 
Loungewear trending in luxurious fabrics like cashmere looks very stylish, warm and comfortable. But,  do you really need to buy a whole loungewear set? Not at all. You can just shop your existing closet and pair some items to create your own stylish stay-at-home outfit. Or you can buy one item and pair it with one item from your existing closet. 
For example, you could buy a cashmere sweater (or take a super-comfortable one from your existing closet) and pair it with some comfy sweatpants that you normally wear. The goal is just to step up your stay-at-home fashion game. 
Knit sets 
Since we're talking about loungewear, these knit sets that are in fashion can be a perfect loungewear set. A knit set means a completely knitted outfit – knitted top and knitted trousers. These are so comfortable to wear, and you can easily step out in these, looking sophisticated and feeling confident. 
Hoodies 
There was a time when we thought of a hoodie as something associated with a punk-style and only worn by younger people. However, that has changed. The kind of elevated and classy hoodies that are now available in all materials and for people of all ages are a great sight to see. A hoodie trend that has been going around recently and looks so chic is wearing a hoodie under a  cardigan, blazer, or coat. You would already have some staple cardigans and coats in your essential wardrobe. Now try those with a hoodie underneath! 
The hoodie craze is quite diverse. People are even pairing their hoodies with skirts. Pairing a hoodie with almost anything seems to be working out! 
Knit dresses and skirts
There are quite a few of these knitwear trends going around. Another one that just looks so mature and stylish is the knitted dress
trend. A knit dress means a whole one-piece knitted dress. However, a  knitted dress might feel too fitted for some people, especially around the midsection of your body.
For that, you can either throw in a cross-body bag or other accessory to cover up the mid-section and neutralize the effect, or you can choose to avoid a knit dress and go for just a knit skirt instead, which is also trending. You can pair the knit skirt with any classic shirts from your existing wardrobe. 
Balloon/puffy sleeve tops 
Since your basic wardrobe is plainer and more minimal, you can add some more noticeable, fancier top pieces. For example, going with another latest trend, we suggest you invest in a crew neck sweater with a balloon or puffy sleeves. This adds a really
pleasant youthful touch to your look but doesn't look too young for your age either. 
Pair this with some staple straight-legged jeans and you're all good to go.
I have found a really good crew neck sweater with puffed sleeves in Marks and Spencer, "totally on-trend" and exceptional value
at  £19:50 It is a great layering piece, comes in various shades, I suggest the cream colour and will be a good staple for your new spring wardrobe.
Wide-leg pants 
Although we kept this out of our list of essential clothing items, it's almost the next best thing to add to your closet. Although this trend isn't new, it's still going strong as ever in 2021. Fitted jeans or leggings, or any fitted items for that matter, don't look too appealing in your 60s. But wide-leg pants? These are perfect for women of all ages! They are comfortable and look super stylish and modern. They also elongate your figure, especially if you wear them with some heels. Tip: To maintain some volume proportion, and ensure that your whole outfit doesn't look too baggy,  pair wide-leg pants with a more fitted top or sweater. 
Leather – And Some 
Leather has been and still is, very popular. Straight-legged leather pants are another item you can consider adding to your closet. They're still straight, but the leather just makes you look much trendier and more fashionable! 
It's not just leather pants which are in fashion. You can go for some other leather item too, such as a  leather blazer or jacket. You don't have to put too much leather in your outfit, either leather pants or a  leather jacket will look quite stylish without overdoing it. 
Printed trousers 
Since we're trying to spice up your wardrobe a little bit, you can try being a little more daring and experiment with printed trousers. Checkered/plaid prints and animal prints are quite in-trend. Think about getting some straight pants with a leopard or snake print. It would definitely stand out from your solid and nude clothing items – and it would be your statement piece, without a doubt! Plus, this kind of plaid and animal prints still look very decent and mature – quite age-appropriate even at 60. 
Printed coats 
Since we talked about bolder prints for trousers, you can do the same with outerwear. A printed coat can make your outfit look much bolder and popping! 
Colour trends 
Apart from the neutral colours in your closet which are still very much in fashion, you can add a pop of bright colour too. Anything which is brighter, but still decent, like a brighter blue or rust colour for example. 
Black and white are trending a lot too, and we already recommended you to have these classic colours in your wardrobe-essentials. Black and white are trending not just in solids but in mixed, patterned prints too.
So, when you're considering a nice printed shirt to add to your closet, you can add a black and white print. 
Another unique colour trend that has been popular for a while, is pink! Light, bubblegum pink.  Surprisingly, it looks so good, even on older women. Try it out if you think it works for you too. You could buy a pink sweater, coat, all-pink dress, and even pink pants! It's all trending. 
(little secret, I am getting married in two days time and my dress is All Pink, yes it really is)
Bottom line 
Not every trend works with every age group or every person. However, we chose only the most practical and workable trends we could find for women in their 60s, ones that would make your wardrobe a bit more creative, but still keep it graceful and age-appropriate. 
For some of the bolder touches, the trick is simple. Just add one bold item to your dress so you don't overdo it. If you're wearing a printed pant, wear a plain shirt and coat to even it out. You're allowed to experiment in your 60s too, as long as it isn't too over the top. 
For all of you who have read thus far, hopefully, you will have gained a little insight into growing your existing wardrobe without spending too much money.
I will add web addresses of some of my preferred shops, they all have quality clothes that stand the test of time, offer exceptional value and look good on 50 plus women. I am not sponsored by any of the shops and are my genuine view. In fact I am a real fan.
I do have affiliate links with Seasalt Clothing if you purchase I will receive a small commission, at no extra cost to you 
Boden Clothing.co.uk 
If you have any ideas or have some tips of your own please leave a comment below.
Meantime see you all soon
Cordelia
Founder of Hey Spring Chicken
References 
https://www.whowhatwear.com/fashion-tips-over-60/slide23 
https://www.whowhatwear.com/2021-fashion-trends-over-60/slide3 
https://www.youtube.com/watch?v=9sVj0kHVTNs 
https://www.whowhatwear.com/2021-trends-for-women-over-50
Please follow and like us: