What Essential Pieces of Clothing every Woman in Her 60s  needs 
Going over 60 doesn't mean losing your fashion sense and the need to look trendy. Women in their  60s can still make a statement with their clothing, with the right choices. So, don't pay heed to anyone who thinks you're past the age of obsessing over fashion choices. Fashion is timeless, and there's a  vogue for every age. 
It's true that one can't wear everything in their 60s; age-appropriate dressing is the key to look fabulous. Because, believe it or not, trying to dress up in clothes which are more suited to younger people, will not make you look younger at all. It will draw attention because it may well be age-inappropriate and gaudy as opposed to looking effortlessly glamorous 
And to help you achieve the perfect graceful look, we're going to share with you a list of must-have clothing items for every woman in her 60s. These are the kind of staple pieces you just can't go wrong with. They will compliment you so well and have people marvelling at the maturity and grace you own. 
So what essential pieces of clothing does every woman need?
Dark-colored pants /Trousers
A few pairs of well-tailored trousers or pants are simply sacred. Remember that tights and leggings usually do not look flattering on older women. So we recommend avoiding thin, body-hugging tights and jeggings.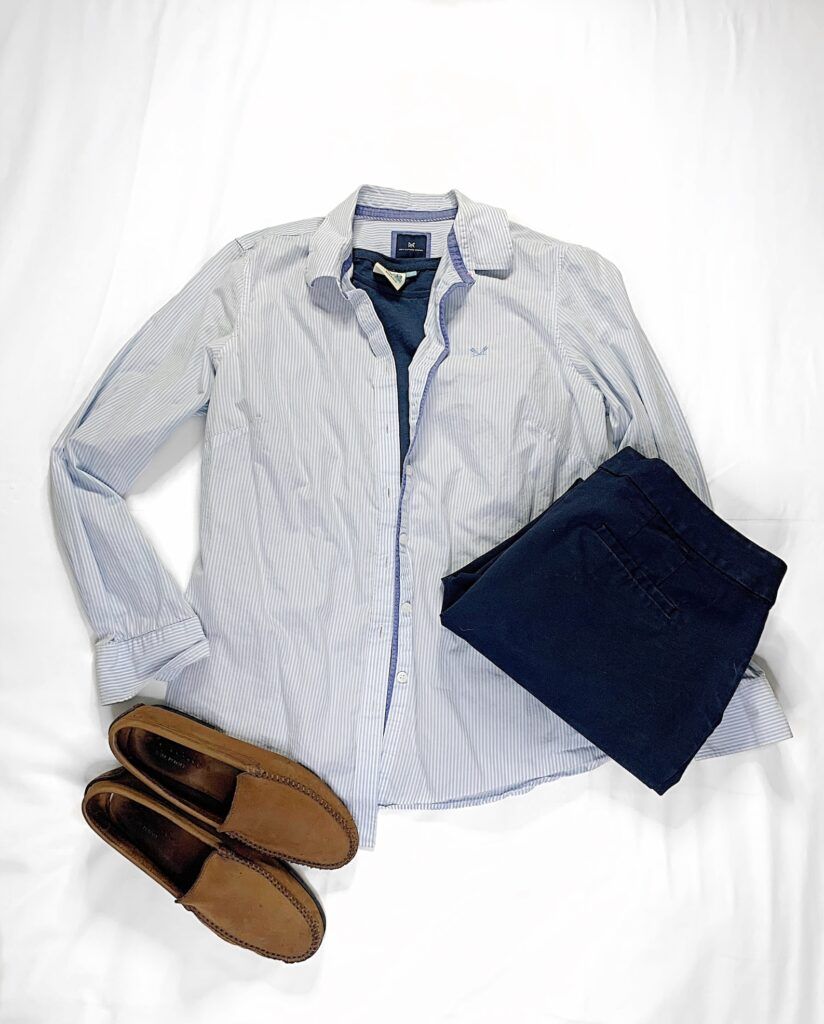 You're never too old for denim
, but instead of going for skinny, go for straight-legged jeans or cigarette pants. You can also try out slightly flared and bootcut jeans. Bootcut trousers are a staple piece for my wardrobe, it appears to elongate my legs; at only 5 feet tall I need all the help I can get. 
Also make sure that the fabric is easy to wear, stretchy, and elastic enough. When you feel and look naturally comfortable in your clothes, you ultimately look more attractive too! 
So, "straight leg" is the best way to go when it comes to choosing pant styles in your 60s. As for the colours, darker shades tend to look better on mature women. So, navy and black are important to have in your closet. Plus, they're so universal that you can pair them with almost any kind of top, which isn't the same for lighter colours. 
Extra tip: Avoid the ripped and worn-out jean styles that younger people wear. It looks a bit off on mature people. 
Cardigan (several types) 
Next, you need some non-frumpy knitwear to add to your collection. There are several types of cardigans you can own for your 60s, but just make sure they aren't too shapeless or too tight. A  graceful, medium fit will look the best. 
They can be different lengths of course and have different fronts – either completely open or with buttons. You can own many different styles and colors, and we recommend that you do invest in several pieces of these. 
The colors should be solid and either dark or nude. Bright, luminous colours don't look appealing at this age. Nude & staple colours just look extremely elegant and put-together. 
Extra Tip: Purchase the best (timeless) black cardigan you can afford, I have a simple black cashmere which is now 10 years old and is a classic and frequently worn piece. Whilst it was expensive at the time of purchase I justified it to myself that it would last me a long time and would be a piece of clothing that could be worn in many guises, I was not wrong.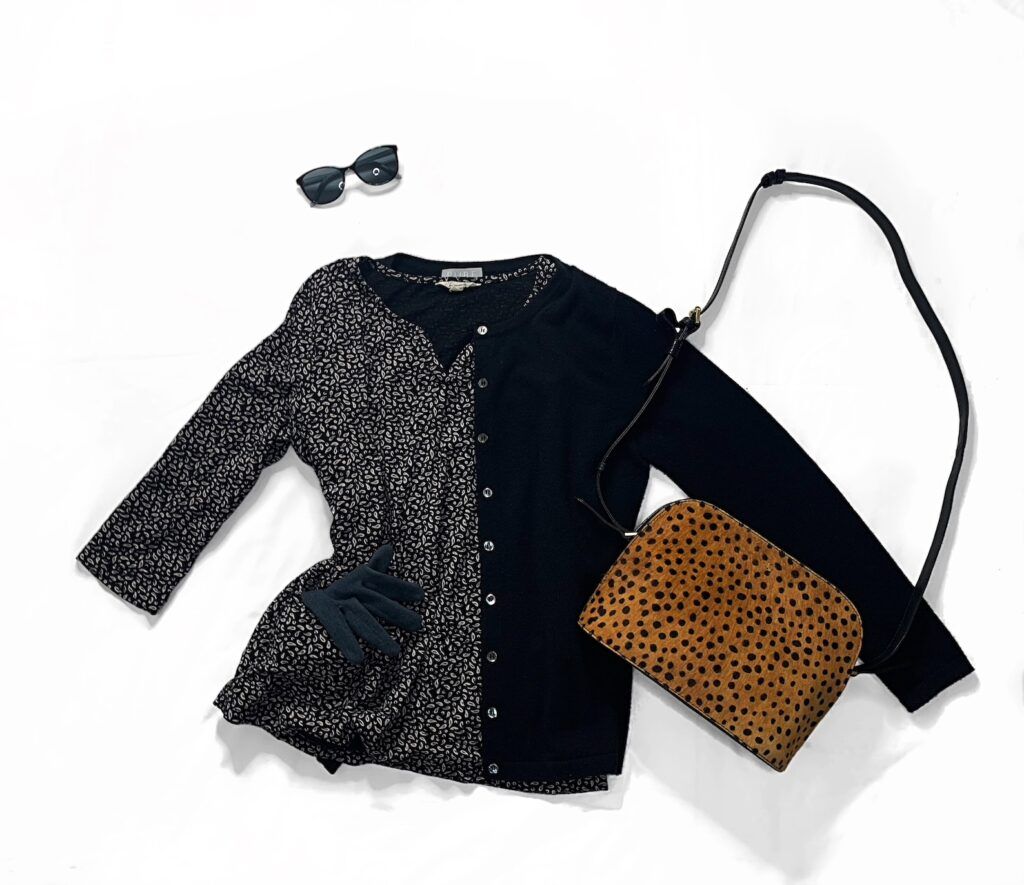 Shirts (soft fabric) 
A reliable collection of shirts, which you can mix and match with different pants, is important. A top consideration must be the fabric; go for soft, comfortable materials like good-quality cotton and chambray.
First things first: a white-coloured shirt is a classic wardrobe item and it is indispensable! And for the rest, we suggest owning a considerable variety of timeless pieces, like other solid, nude colors and also some printed shirts. 
The prints should ideally be small or sparse, subtle, and nothing too bold and extravagant. Floral prints look very charming and lively on mature women, especially in the spring and summertime. 
A silk shirt 
For slightly more festive occasions than everyday casual wear, one or two silk shirts are good to have. These of course look more dressy and formal, for days you want to add a little extra shine and dazzle. 
Silk is very delicate and soft to feel, so your comfort will never be compromised either. Trench coat, mac, or black jacket 
Outerwear shouldn't be left out as an afterthought. It can add some extra punch and coverage to any dress. A good-quality black trench coat, mac, or black jacket is something you can throw over almost any outfit at all. These will never be out of fashion. 
Choose the most timeless and versatile colours, like black. Nude colours look exquisite too, especially those camels, beige, tan, and stone colours which are all-time favourites. 
Owning even a couple of these versatile coats can make your life sorted. 
Nude pumps and nude heels 
You can't put your best foot forward in fashion without a classy pair of shoes! A pair of nude pumps for casual looks and a pair of heels for more formal looks – there isn't a better combination than this! It is worth investing in one pair of heels for special occasions. However, for regular use, go for something which is both stylish and comfortable for your age. Pumps, loafers, and boots (for winter),  all fit these criteria. 
LBD and an easy-fit dress 
We all simply need an LBD (little black dress) for a festive evening or a night out. This is a piece that you can wear for years and years by just accessorizing the look a little differently every time. Ideally, you should buy one which is about knee-length and has a classic design that doesn't age.  Dresses that are too short do not look flattering on women in their 60s. Modest hemlines, on the other hand, look very graceful and stunning. 
You must also keep a pleasant, easy-fit dress for smaller occasions like sudden lunch plans and the like. This one is a middle piece – not too festive and not too casual. 
Accessories 
Last but not least, you need to accessorize your dress to add the final touch. Accessories can make it look like you've really thought out your look, and any great look can be made even better with some simple additions. 
Accessories can include many things like bags, jewellery, and scarves! 
For jewellery, pick out some minimal, dainty pieces to flatter your look. Don't overdo it with the jewels, it can look a bit extra and gaudy. 
Having a small collection of good-quality scarves is absolutely essential! A cashmere scarf or wrap should be one of your most prized possessions. Just the number of ways you can style a scarf is mind-blowing. From casual to formal, there's a style for every occasion.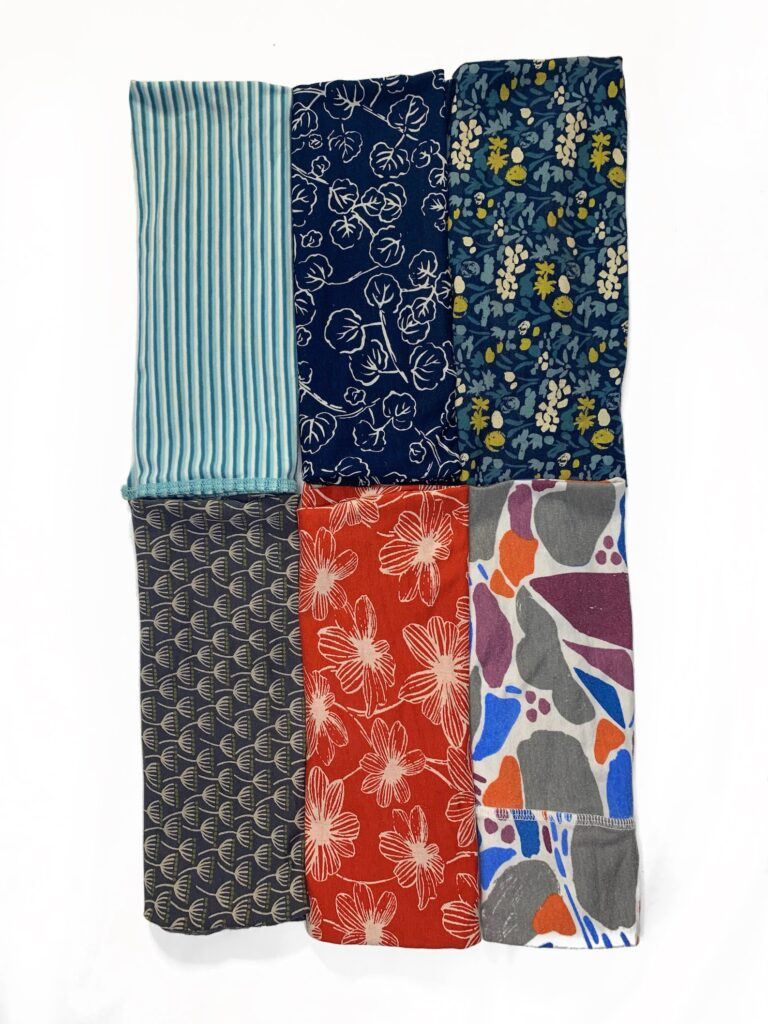 You can choose to wear it as a shawl or choker for formal events, or a loop and knot style for casual wear. The classic Parisian or European knot looks so modish with everyday outfits! Scarves can completely reinvent a look, take our word for it, and they look just as stylish in your 60s  as they did when you were younger.  
In conclusion 
Looking fashionable in your 60s isn't really about spending tons of money. You can look trendy with a  very basic wardrobe too if you own the right pieces. 
The best investment you can make is in neutral pieces which can be mixed and matched with each other to create new looks every single day. You'll notice that all of the essential pieces of clothing we've suggested are very versatile. 
It won't harm to add occasional bold items to your look, but make sure you pair it with some neutrals to achieve the perfect, balanced look for your 60s. 
If you have read thus far I would like to thank you, hopefully, the post will have provided some useful garment ideas and information. You may also find the post I wrote called Body Image Issues for Women over 50, click on the link
I would love to hear your thoughts or what is an essential piece of clothing works for you or indeed which item has stood the test of time and finding you still wear this item even many years later
Please leave a comment below.
In the meantime, I look forward to seeing you again
Speak soon
Cordelia
Founder of Hey Spring Chicken
References
https://www.outfittrends.com/outfits-for-women-over-60-fashion-tips/ 
https://sixtyandme.com/fashion-after-60-how-to-look-fabulous-without-trying-to-look-younger/ https://www.gransnet.com/life-and-style/style-and-beauty/over-60s-fashion-buying-the-basics essentials-capsule-wardrobe
Please follow and like us: