As our skin evolves, the makeup we previously used may not do exactly what we want it to today. The good news is there are some incredible products on the market designed specifically for the more mature skin.
Perhaps you've been noticing that your concealer has begun to augment the wrinkles around your mouth. Or perhaps, of late, your concealer just isn't doing the trick on your under-eye skin. Maybe all of a sudden your skin appears dryer and concealer makes it look worse. You're not alone! These are common issues that many brands have developed solutions for.
Aging skin doesn't mean you need to stop using makeup, in fact, it opens up some exciting new
makeup opportunities. I have tried one or two over the last few years, with some great (and not so great) results.
I suffer from really dry under-eye skin which can flake and become irritated, many concealers are not a good fix and actually make me look worse. Never the less I have found some excellent products, especially since starting a YouTube Channel. Check out our list of the 12 best concealers for mature skin for all the tips and tricks to glow at every age.
Not written in any order, however, my two favourites are 11 & 12, offering slightly different benefits, advantages and an altogether different look once applied.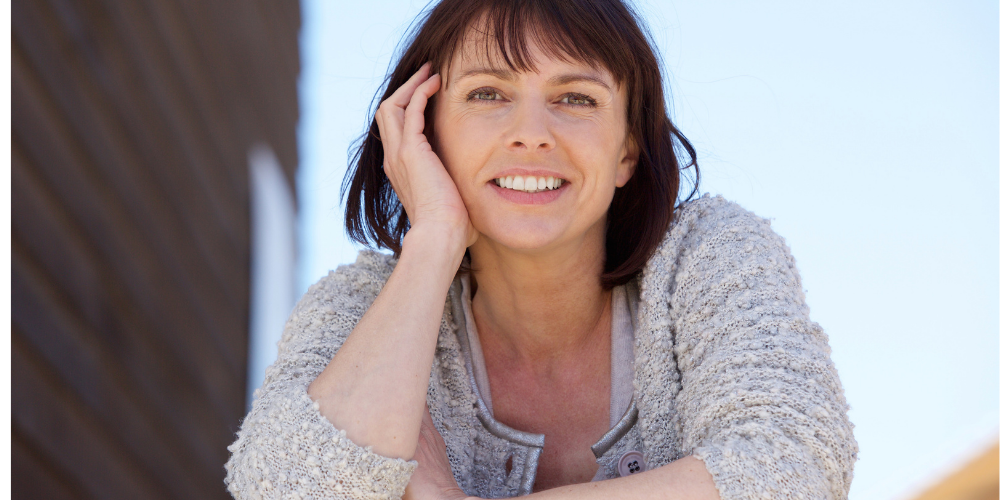 Read on for more info and how you can cover dark spots, dark circles or whatever area your under eye and skin is failing short by looking at The Best Concealers for your mature skin. Whatever your problem we have it covered with 12 of the best concealers on the market.
1. Bare Pro- Bare Minerals – Anti Crease
2. True Skin – Ilia – Vitamin C – Plumping and brightening
3. Stretch Concealer – Dewey & Hydrated Look
4. Virtuous Veil – Lilah B- Creamy, Easy to apply and Eye Primer
5. Lancôme – Teint Idole Ultra Wear All Over Concealer – Creamy, ultra gorgeous coverage
6. Instant Age Rewind Erasure – Maybeline – Excellent All Rounder & Great Value for money
7. Skin Self Refreshing – Syncro – the Longest Lasting – Easily 12 Hour coverage
8. Flawless Fusion Ultra Longerwear – Laura Mercier – Long Lasting & Great Coverage
9. Instant Eye Lift – Trish McEvoy – Great Texture, Little Goes A Long Way
10.  Bye Bye Undereye – IT Cosmetics – Performs well, good for selfies.
11. Veil – Multi-Tasking 3 in 1, Highlighter, Concealer and Illuminator, Looks great for the Natural "make-up" Free Look
12. Retoucher – Charlotte Tilbury – Easy to apply, Great Coverage, (the one I am currently using)
Disclaimer: Within this post are Affiliate Links, in the event, you click on them and purchase an item I will receive a teeny tiny commission at no extra cost to you, for which thank you.

1. With Vitamin C ingredient1. BAREPRO 16-Hour Full Coverage Concealer by BareMinerals – $25.00 – £18 
Anti-Crease – Perfection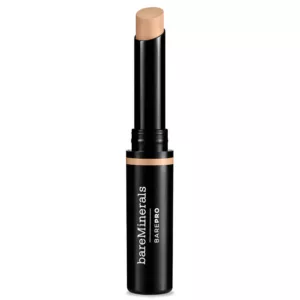 This product is specifically designed to be anti-crease. We all know the frustration of concealer that
creases and ends up highlighting our wrinkles as opposed to covering them. BareMinerals created
this formula with bamboo stem extract which smooths the appearance of lines and pores. It's also packed with natural antioxidants such as raspberry seed oil, blackcurrant seed oil, and sea lavender.
These work to nourish dull, sullen-looking skin while simultaneously protecting us from pollution.
In addition, it boasts 16-hour full coverage so you can glow all day without re-applying.
I am a huge fan of the Pure Mineral range and this is a great addition to the range. Easy to apply in a creamy stick format and comes in 12 shades
2. True Skin Serum Concealer by ILIA – $30.00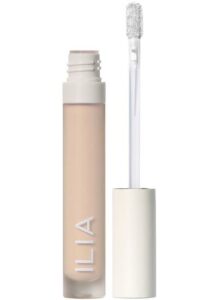 Vitamin C ingredient.
This product is the best of both worlds in that it conceals beautifully while also acting as a healing serum.
What do I mean by that? Well, the product has a vitamin C component that works to brighten the under-eye area. Not enough to case irritation but enough to give the eye a lift as well as conceal.
All this whilst the product's lightweight serum texture will cover under-eye bags, circles, and wrinkles without flaking or creasing with lines.
Another creaseless option for your make up bag.
Comes highly recommended and has outstanding reviews. It is easy to apply and mixes onto the skin seamlessly. Although the product is pricier than many, only a tiny amount is required.
Why I like this: The vitamin C helps lift the skin, whilst the shade choice and easy application makes this a great option
3. Stretch Concealer by Glossier- $18.00 – £15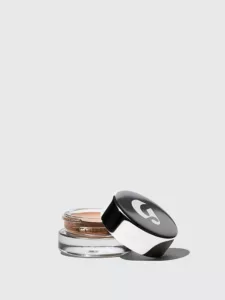 Dewey Look
Glossier is known for its rave reviews from happy customers all over the world. Though this concealer isn't explicitly made for mature skin, it works wonderfully on wrinkles, bags, and hyperpigmentation.
I selected this product because of its lightweight feel that leaves the skin looking dewy.
As our skin matures, it tends to appear dryer. This concealer gives the skin a "wet look" which adds a youthful tone to the face. Plus, the light texture means it won't cling to wrinkles causing creases and flakes.
4. Virtuous Veil Concealer ; Eye Primer by lilah b. – $38.00
Creamy, Plumping, Easy to Apply, doubles as an Eye Primer
If you've given up on concealers, give this product one last chance to change your mind. It has a creamy texture that blends beautifully into creases. Whilst the Aloe Vera component helps to plump up tired-looking skin.
The side-sliding container is also perfectly packaged to fit in any purse so you can stay covered wherever you go.
This is another multi-tasking product. It offers an eye primer as well as offering great coverage. For my skin type I find that I have to use quite a lot of primer to allow it to seamlessly sink into my skin. Whilst this is not my favourite it never the less has many excellent reviews and is why it made it on to my top 12 list.
5. Teint Idole Ultra Wear All Over Concealer – Lancôme – $30 – £20
This product is ideal for under-eye concealer but can be used to cover spots in other areas. It feels
like a soft, light, under-eye cream but it offers full coverage. It's vegan, waterproof, and guarantees at least 12-hour hydration so is perfect for dry, mature skin. Suitable for all skin types, even sensitive.
This comes in 20 shades and offers two varieties of application, the "Doe Foot" and the direct to finger.
This has some of the most consistently good reviews of any concealer and once tried it's easy to see why.
Why I like it: Of all the concealers I have ever tried this stood out as the best of them all offering the very best coverage with easy application, in fact, it has two types of application and is a  firm favourite with many. I found this needed little if any touch up during the day.  The only reason it is not in my top two is that when my skin is dry and breaking out irritated and eczema-prone, this concealer tends to highlight my dry patches. If not for that small problem this concealer would be my number 1
Click Here to Purchase – Lancome Teint Ultra Wear -Camouflage Concealer
Click Here To Purchase – Lancome Teint Ultra Wear (Doe Foot Applicator) Concealer
6. Instant Age Rewind Eraser Dark Circle Treatment Concealer by
Maybeline – $9.99 – £8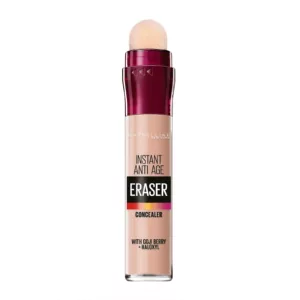 Excellent All Rounder & Best Value for Money
This is our best budget pick, however, its low price in no way indicates its power. This concealer offers full coverage as well as diminishes the appearance of puffiness.
A sleepless night or even one or two glasses of wine tends to puff up mature skin. This concealer's Goji berry and Haloxyl formula work to boost blood circulation, so your skin looks refreshed.
My favourite part about this product is the applicator. No need for a beauty blender, simply roll it on and blend. It will feel like you're erasing your dark circles and age spots.
Why I like this: The price is undeniably good, it does the job very well and is a dupe for the Charlotte Tilbury, Retoucher. This is probably the easiest to apply out of all concealers I have tried. Even if you have never used a concealer, this will be an easy application. Simple to blend, easy to add additional foundation and finishing powder. Lasts a good length of time without touching up. Good for all skin types including mature and sensitive.
Click Here To Purchase
7. SKIN SELF-REFRESHING Concealer by Shiseido SYNCHRO – $31.00
24 Hour Coverage – Well at least 12 hours
As skin matures, it tends to grow thinner and lose some elasticity. This means we must be extra cautious when applying and removing makeup.
Constantly pulling our skin can lead to unwanted effects. This is why I  love this product by Shiseido Synchro. It's designed to have a zero-drag application.
Meaning you won't be pulling your skin because it goes on smoothly and seamlessly. Additionally, it lasts longer than most brands.
It says it has breathable coverage for  24 hours.
24 hour coverage is a lot to ask of any concealer, even 12 hours is a huge expectation, but this is what "Shiseido" promises and the reviews are again excellent supporting the 12-hour stay without retouch.
Another easy to apply concealer with a good size applicator. Comes in many shades so you will easily be able to find the right shade for your skin tone. I liked the feel of this on my skin. However, I have not tried for any length of time so my results are anecdotal.
8. Flawless Fusion Ultra-Longwear Concealer by Laura Mercier – $29.00 – £15 (currently showing a discount of 50% on the Feel Unique Website)

"No Look Make-up" coverage – 22 shades
Who knew makeup could be designed to have a blurring effect? Well, this Laura Mercier product is almost undetectable because of its creaseless finish and Blurring Powder Blend which reacts to the light specifically to smooth the appearance of lines.
Plus, it comes in 22 shades so you can find the perfect one for your skin. This concealer perfects the,
"wearing makeup without looking like you're wearing makeup" aesthetic.
Why I like this:  Truly seamless, gives the whole no make-up make-up look.
It is a highly respected "brand"  and has been established as the Queen of concealers for over 70 years. It is still the top of its game and is used by "Makeup Artists" Actors, both stage and film and in fact often used by both men and women alike &  has been the "go-to concealer" for some considerable time.
This brand offers coverage for some of the most complex of skin conditions and yet can go undetected. I have always liked Laura Mercier and when I suffered from acne during my youth this was the brand I would use. Now I have the complete opposite problem from that which I suffered with 45 years ago and yet Laura Mercier is still by my side.
The reason it did not make it to my top two is my preference for "wand application" (no other reason)
But Laura Mercier Flawless Fusion Ultra Wear it is in my TOP 3
Click here to purchase. 
At the time of posting Feel Unique had a special offer. Normal RRP  $29 & £25
9. Instant Eye Lift by Trish McEvoy – $46.00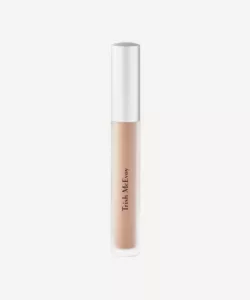 Easy To Use – Tad Pricey
If you're looking for a lift without the hassle and price of surgery, this concealer could be your answer.
This product is a crowd-pleaser with impeccable reviews. Trish McEvoy's Instant Eye Life concealer is
ideal if you're looking to brighten the under-eye area. Plus, it's free of sulfates and even vegan so you
don't need to worry about extra toxic additives.
Harvey Nicholls and Selfridges are where you will find this gorgeous product. I have only tried a small sample size and therefore not able to comment how my skin behaved when it was irritated or troubled.
The reason it made it onto the list is because the reviews (from the US) are outstanding and it does everything it says it will. The look is illuminating and offers a light deflecting type of effect which gives the result of an "eye lift" hence the name.
It is expensive and would suggest trying a sample size before committing $46 (or £40 here in the UK)
I will add a link where you can purchase directly from Trish McEvoy US Click Here  & Selfridges in The UK
10. Bye Bye Under Eye Full Coverage Anti-Aging Waterproof
Concealer by IT Cosmetics – $28.00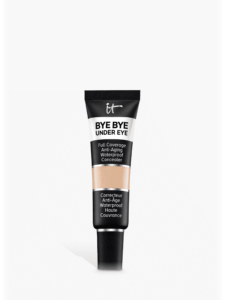 Covers Dark Circles, Puffy Eyes With Ease & Super reflective,
Performs well in front of the camera.
IT Cosmetics was founded by a former news presenter who couldn't stand how most makeup looked in the intense film lighting. That should give you some assurance that this product won't crease or cake no matter your skin type as the company was founded on the concept of looking good under extreme bright lights and hot and humid
It's pigmented and offers full coverage so you can cover any spots and dark circles without caking it on. This is your Time To Glow
11. Veil Illuminating Complexion Fix £24.75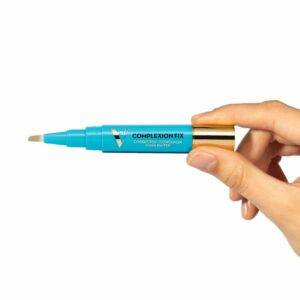 Multi-Tasking concealer
Possibly the easiest concealer I have ever used. What makes this special
*"The 'Veil Illuminating Complexion Fix' created by celebrity make-up artist Sebastian Tardif is said to be Jennifer Aniston's secret to naturally beautiful looking skin, and has been specifically formulated to leave your skin looking like it's your own, but only much, much better.
It takes 5 years off in less than 30 seconds and still allows your skin to peep through, so you look completely natural…
5 EASY SHADES TO CHOOSE FROM:
N1 – Suits porcelain skin tones
N2 – Suits fair skin tones
N3 – Suits medium skin tones
N4 – Suits tan skin tones
N5 – Suits deep skin tones
Veil Complexion Fix has a natural light coverage that helps perfect the look of skin without looking 'fake' and 'heavy'."
I use N2 in the Winter and N3 in the Summer
The wand is like a pen and is easy to apply.
Why I like it, I have found not only is it the easiest to apply but it last longer gives depth and is able to cover my dry, sometimes irritated eyes without aggravating. Giving me a clear-skinned look. In fact, we have filmed a YouTube video showing just how hard this little pen works. Due to go live in a few weeks, I will add to the post once uploaded.
(Reference * Beauty & the Boutique) I have added the Beauty and Boutique link below. A wonderful company with some of the best customer service I have ever had. (little packets of sweets accompany each order) 
12. Charlotte Tilbury – Retoucher $29 £25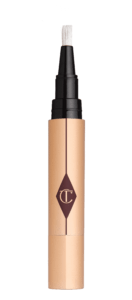 The Retoucher Concealer – 10 Shades
I use Number 2 in the colour of "Fair" and the website says this shade is perfect for people with "light skin tones", although mine is a medium skin tone I never the less find this lighter shade gives a better coverage for my skin, especially the dark spots on my inner eye.
Charlotte Tilbury website explains that it's a "highly pigmented formula with an ultra-covering & colour correcting texture to smooth and moisturise your skin whilst reducing imperfections".
I can confirm that does indeed cover all imperfections without creating the usual creased or fake look
WHAT MAKES THE RETOUCHER CONCEALER MAGIC:
A hydrating complex keeps your skin plump and moisturised for a natural, luminous finish.
Black tea derivatives rich in vitamins, fills in hollowed out skin grooves, creating a smooth, seamless surface.
Breakthrough Lipo-Siliconic compound & special elastomer pearls create an invisible plaster over the imperfections, creating a traceless, natural finish.
Ideal for concealing imperfections & blemishes for flawless skin every day.
Why I like it, easy to use, the wind-up wand provides the right amount of product, (although reviews will suggest that it might over provide, but I don't think that is the case). The product remains in place for many hours, retouching is a breeze, as the name suggests. May seem expensive to purchase but actually lasts around three to four months.
It looks classy and is easy to transport in your Handbag or make-up bag.
Her website has a rather super-duper "Shade Chooser" it will take a camera shot of your face and you can then choose from the available shade options and see exactly how the colour will enhance your skin. I have used this "shade chooser" for both concealer and Foundations and it works, brilliantly, I am very impressed
For me the two stand out performers are The Veil Complexion Fix and Charlotte Tilbury Retoucher, I use both equally but Charlotte Tilbury product suits my skin when I have a dry skin/eczema break out
If you've been let down by concealers before,  I do understand why you would be frustrated or maybe
have even given up on them altogether. Many concealers aren't right for mature skin. However, there
are some incredible products out there designed to help you glow at any age so why not give them a try?
I am aware there are so many wonderful (and not so wonderful) products and would like to read which concealer works for you and why it works. Please leave a comment below, comments enhance and help the readers to arrive at a decision.
There are many outstanding concealers that I have not added on the list, for example "Amazing Concealer" but I had to draw a line somewhere and 12 seemed a good number; so If your preferred concealer is not on this, then add to the comments below.
If you liked this post you may also like "How to Look Younger Without Surgery" where you can also check out my YouTube film where we tried Mark Trainor's Face & Neck Tapes.
Thank you for all of you who made it this far. Your support is invaluable. So a big and huge Thank You.
See you soon
Cordelia Helena
Founder of Hey Spring Chicken
Images supplied by:
Canva Premium
Advertisers own images:-
Feel Unique
All Beauty
Look Fantastic
Beauty & The Boutique
References : https://www.womenshealthmag.com/beauty/g33367211/best-concealer-for-mature-skin
Please follow and like us: