Olay is one of the leaders in the industry when it comes to mainstream skin and beauty products. But in an industry that is so saturated with brands and products, it's tough to know which are worth your money and which aren't. Here we look at the newest product for Olay, Collagen Peptide 24
Olay Regenerist Collagen Peptide 24 is a collection consisting of three skincare products–a day serum, a moisturizing day cream, and an eye cream. All three are good products that may give you the results you're looking for. You should know a few key things before deciding to buy them, though.
This article is a review of the Olay Regenerist Collagen Peptide 24 product line. We'll look at the good, the bad, and everything in between. Read on to learn all you need to know about Collagen Peptide 24 products to make an informed decision about whether they're right for you.
I have also completed a 14 day challenge which was filmed and uploaded to my YouTube channel, I will add the link and you can see the results below.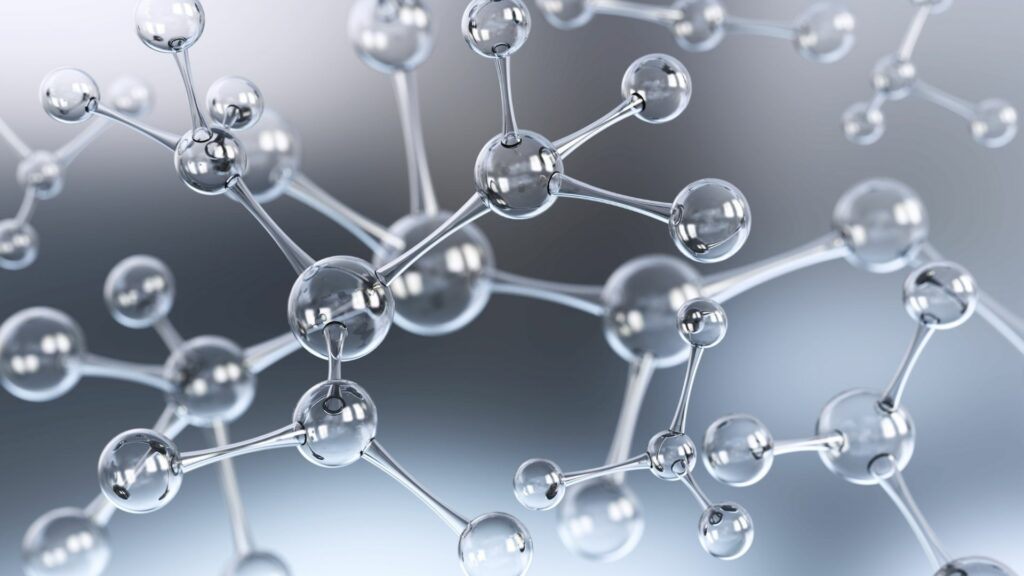 What Is Olay Regenerist Collagen Peptide 24?
Medical Disclaimer: Please note, am not a dermatologist or medical professional, these are my own views, recommendations and research. 
Most of us have heard of Olay Regenerist products. We see them on the shelves. We see the commercials on TV. We know they're skincare products that are supposed to make our faces look smoother and younger, does Olay Collagen Peptide 24 give you this promise.
Now, there is a new threesome to the range: Olay Regenerist Collagen Peptide 24. This line of three products includes an active ingredient called palmitoyl pentapeptide-4, which is the collagen peptide. It's combined with niacinamide to provide a skin-firming solution for aging skin. All products in this collection are fragrance-free.
This collection is touted as working fast and producing results that make more expensive products look shameful. Each formula goes on smoothly, sinks in quickly, and doesn't leave your skin feeling sticky or greasy. So, let's take a closer look at the line of Olay Collagen Peptide 24 products.
What Is Olay's Collagen Day Serum?
The day serum can be applied both in the morning and at night. It's recommended for use with all skin types. It's meant to give your skin its bounce back. Within two weeks, your skin should look tighter, firmer, smoother, and more supple.
Olay Collagen Peptide 24 Moisturizer
The cream moisturizer is lightweight and can also be applied in the morning and at night. It's meant to reduce the appearance of lines and wrinkles on the face. Skin is said to look smoother and younger after only one application.
Using Olay's Collagen Peptide 24 Eye Cream
Apply the eye cream in the morning or at night. That morning puffiness fades away instantly when you apply first thing. It will brighten up the dark circles under your eyes, as well as reduce the appearance of crow's feet.
What Do Consumers Say?
Reviews of the Collagen Peptide 24 products on Olay's website say a lot of good things about them. Customers who've tried this collection state they see results quickly like Olay says you will.
While most reviews on the Olay website are positive regarding the results seen in the skin, some negative things were said about the serum applicator. The bottle has a dropper to use for putting the serum on your skin. Multiple customers mention having trouble with the dropper and using another method for their application.
Reviewers are always asked if they would recommend the products. Most of them said yes. Based on customer reviews, Olay Collagen Peptide 24 is a good product line.
Should I Use All Three Products Together?
For the best results, you should use the products together consistently. They're 24-hour skincare products, so you only have to apply them once a day. Use them during your morning routine or at night.
The best way to apply them is in this order:
Collagen Peptide 24 Serum
Collagen Peptide 24 Eye Cream
Collagen Peptide 24 Moisturizer
Olay also has a Collagen Peptide 24 Cream Cleanser that should be used at night and in the morning.
Can I Use Collagen Peptide 24 Products in Isolation?
You may use any piece of the Collagen Peptide 24 collection in isolation. It should still give you the results it was designed to provide.
In fact, many consumers combine a product from this line with other types of skincare, such as retinoids. They may fill gaps in their skincare regimen with these products because they're easier on the skin.
Many skincare enthusiasts use more expensive products in between applications of drugstore products that work. In those cases, products are often used in isolation from others in the same product line.
My Experience with Olay Regenerist
  How Much Does Olay Collagen Peptide 24 Cost?
Olay is a drugstore brand. You can find these products on the shelves of neighborhood stores. Olay's products do carry higher costs than many of the other drugstore brands, though.
The Olay Collagen Peptide 24 collection retails for $28.99 per part. It's far less than what you'll pay for premium skincare brands but works close to the same.
Why Is Olay Collagen Peptide 24 More Expensive than Other Olay Products and Competitors, Like L'Oreal Revitalift?
Looking at the active ingredients in the Collagen Peptide collection and comparing them to other Olay Regenerist products and competitor products, it's hard to understand why Collagen Peptide costs more. What is the difference?
Comparing this Olay collection to other Olay collections is the most confusing. Olay uses the collagen peptide in many of its products. The difference comes in the amounts. The Collagen Peptide 24 collection of products have concocted more of the peptides ingredients, specifically for this collection.
This Olay skincare line has more going for it than that, too. All the products are fragrance-free and good for all skin types, including those with sensitivities. Each product is lightweight, absorbs quickly, doesn't leave greasy residue behind, and lasts longer than other brands.
Olay Collagen Peptide 24 products are designed to give you results in half the time of other products. Every industry needs a "top-dog," even in the drugstore skincare category. Olay has standout product lines which can carry a higher price tag relative to their competition.
Does Olay Collagen Peptide 24 Really Work?
These products do work. Reviews of those who've used them report brighter, firmer skin under the eyes. Fine lines and wrinkles are said to diminish. Most people saw bounce come back to their skin and reported looking younger and fresher.
Very few users reported any kind of adverse or breakout reaction to the products. There was one review of the moisturizer flaking off, especially when putting sunscreen over it.
Our experience was positive. Lines and wrinkles do visibly get reduced. The products go on smoothly and make your skin feel softer upon application. With regular use over a couple of weeks, facial skin looks tighter and more supple. The area under and around the eyes also looks brighter and firmer.
How Do Collagen Peptides Work?
Collagen peptides work by delivering messages between different cells in the skin. Collagen proteins in your skin are what make it look supple and younger. As we age, the collagen proteins start to degrade.
The collagen peptides in younger skin deliver messages to other cells telling them to create more collagen. The older we get, the slower this process becomes. Eventually, the messages don't get sent to produce collagen naturally anymore.
That's where collagen peptides come into play. You add them to the skin on your face and they start sending those signals again. Collagen then gets produced.
Is Olay Collagen Regenerist Peptide 24 Worth the Money?
The price for each product in this collection is $28.99, excluding the cream cleanser. The products work well, have quality ingredients, don't agitate skin, and last for longer than some of the competition.
For those reasons, the Collagen Peptide 24 line of skincare is worth the money. You'll get results quickly from products that are safe and not chocked full of undesirable ingredients like parabens, phthalates, and synthetic dyes.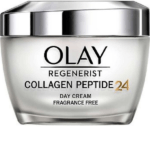 Where Is Olay Collagen Peptide 24 Sold?
You can purchase this Olay collection on their website, as well as with other online retailers, such as Amazon, Ulta, and eBay. It's also sold at Walmart, Target, Walgreens, CVS, Kroger, Boots Chemist, (online- Feel Unique, All Beauty, Amazon) and more.
In the UK the RRP is usually £34.99 However   I found a cracking deal from Amazon, where the price (currently) is only £17:93. I will add a link. It is an affiliate link so I will receive a teeny tiny commission should you click and purchase >>>>click here<<<<
What Doesn't Olay Collagen Peptide 24 Provide?
A couple of things are missing from this collection that many other products provide.
One is sunscreen. The Collagen Peptide 24 line of products do not contain SPF. That means you'll have to apply that in the form of another product. Reasons for the omission could include changing the effectiveness of the other ingredients, changing the light feel of the products, or not having room in the formula for anything more.
The other missing ingredient found in many skin care products is retinol. Retinol is widely used by those getting older to combat the signs of ageing skin. The Collagen Peptide 24 collection is meant to be easy on the skin, not causing any agitation or breakouts.
The Bottom Line
The Olay Regenerist Collagen Peptide 24 collection consists of good products. Though the active ingredients are used in other Olay products, the formula for this product line has been optimized to give you better results in less time. Each product requires only one application per 24 hours. They work together or in isolation.
Collagen Peptide 24 products may cost more than other drugstore brand skincare, but they're worth the extra money. These are high-quality products that do what the brand claims they can.
If you have made it this far thank you,
If you have any experience of Olay Regenerist Collagen Range or indeed if you have found sucess with other products I would welcome your comments, see below.
If you liked this post you may also like my Blog Post about Vitamin C, and everything you ever needed to know, why, how to use it and when, together with all things related to Vitamin C. Click Here to check it out
You can also find me on YouTube heyspringchicken.com
Look forward to seeing you soon
Cordelia Helena.
Images and photography by CanvaPremium
References
https://www.cosmopolitan.com/style-beauty/beauty/a25372431/what-order-to-apply-skincare-products/
Please follow and like us: